Main content starts here, tab to start navigating
Frequently Asked Questions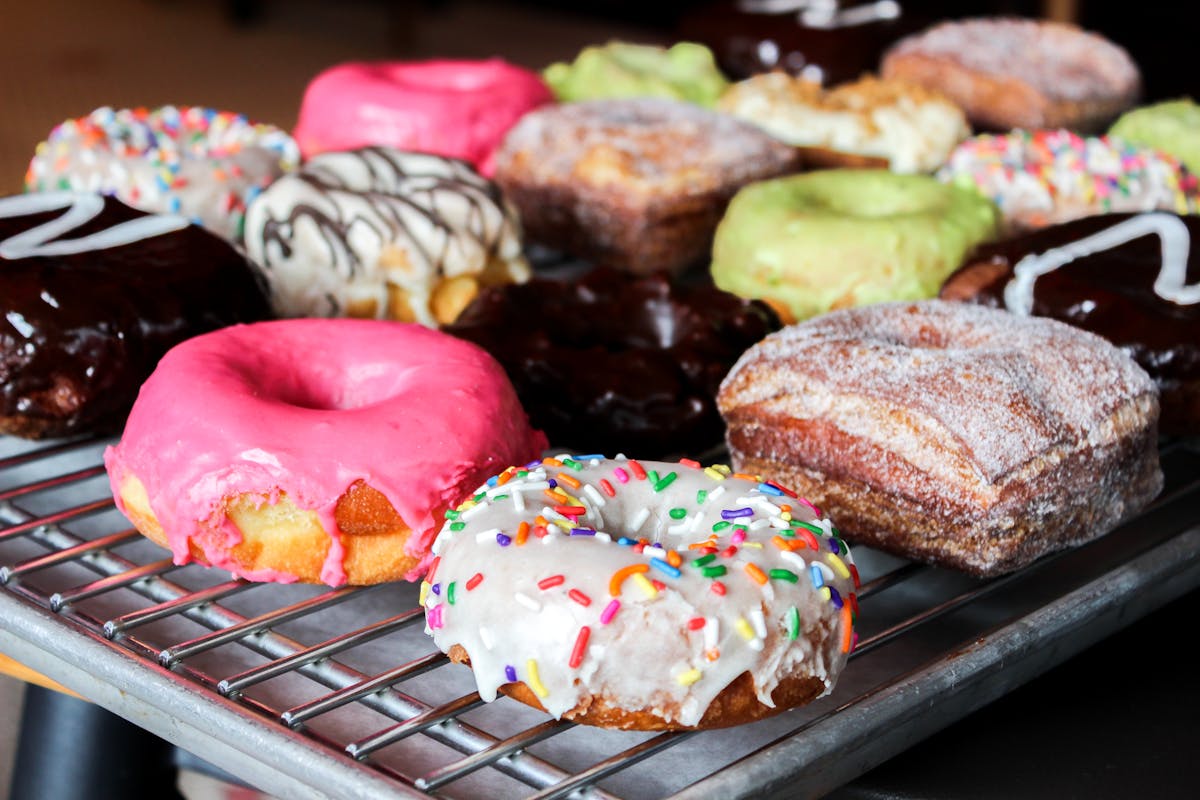 Do you cater weddings and events?
We can provide donuts for any event, large or small! Please click here for more information on catering.
Can I order donuts for pick up or delivery?
You can! Just give your local Stan's Donuts & Coffee a call to place the order. Click the link here for a list of our locations.
We also offer delivery through GrubHub, DoorDash, Uber Eats and our app (look us up on your favorite app store!)
Do you ship donuts?
We sure do! Click here for more details!
Do you make vegan donuts?
We do make an amazing yeast-raised vegan ring topped with chocolate glaze and a cinnamon sugar vegan donut!
Do you make gluten-free donuts?
We offer some of the best 'gluten-less' donuts you can find! We call them 'gluten-less' because, while they're made using a gluten-free recipe, out of necessity they're currently prepared on the same equipment as our conventional donuts and fried in the same oil, so there is a risk of cross-contamination. As with our vegan donuts, we hope to someday have the means to separate production.
Do you offer donations?
We love to support the community and local causes. You can email us at infogrp@stansdonuts.com to submit a donation request, however, please know that we receive many requests and unfortunately cannot commit to every one.
Are you hiring?
We are always looking for great team members. You can apply online by clicking here.
Do you franchise?
Unfortunately at this time we are not offering franchise opportunities.
Can you make custom-colored donuts for my event?
Yes! For custom colored donuts, we do require a minimum order of 15 dozen for full-size donuts and 25 dozen for mini donuts. Drop us a line at infogrp@stansdonuts.com and let's talk!
Are the donuts made with lard?
No, lard isn't used to make any of our donuts.
How can I check my gift card balance?
Email infogrp@stansdonuts.com with your gift card number and someone from our team will get back to you as soon as possible.
I forgot to scan my Stan's app at checkout. Can those points be added to my account?
You can add points to your Stan's app anytime--even after checkout! Don't miss out on sweet exclusive offers, to add points please send infogrp@stansdonuts.com a copy of your receipt.


REDEEMING REWARDS
Redeeming rewards has never been sweeter! Check out the walkthrough below to learn how to redeem Stan's Perks.